Boost Juice did it. Coke did it and it was as simple as picking a name. Two of the most recently successful marketing and PR campaigns in Australia have been by companies that sell drinks and like your first name.
Boost Juice have revived their incredibly successful campaign "What's Your Name Game" and launching it next Monday 22nd September. The promotion will be running for 2 weeks and using the same media platforms as their previous campaign of radio and social media where two names will be announced each day. If you are lucky enough to have one of those names, Vula! You receive a free Boost Juice that day. The success of the previous campaign has given Boost an edge that customers already know what to expect and they don't have to be re-introduced to it.
This campaign will see the addition of digital marketing element with an extra name being selected through their website where there will be questions posted for people to answer. A name will be drawn from the website participants who will also be entitled to receive a free Boost Juice.
Coca-Cola also jumped on this name bandwagon with their 'Share a Coke' campaign last year which saw coke bottles and cans around the world 'personalized' with individual names. The success of this campaign can be seen in the sales figures were consumption of the soft drink rose by 7% in young adults and traffic on their Facebook page increasing by a whopping 870%.
The reason this very simple yet affective idea of using a name works is they are personalising their product for their consumers. It is seen as identifying with their customers and bringing the brand down to a personal 'first name basis.' The other benefits these name promotions offer the clients: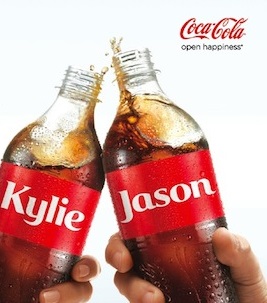 * A feeling of self importance
* A feeling of being 'famous'
* A more individual relationship with the brand – almost a friendship
* A loyalty to the brand
* Engaging their market
Both of these campaigns were brilliant – as usually the most simple ones are. There were no terms and conditions, there was no competitions for the most 'Likes', there were no confusing instructions. It was as simple as spelling a name and if it was your name, then you would feel that all the more special and connected to the brand.
Fingers crossed my name gets called out next week for a free Boost Juice!