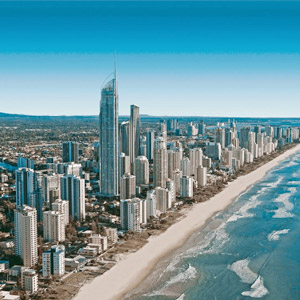 Known for it's sun, sand and surf, the city of the Gold Coast is buzzing for more reasons than one. It's difficult to find a time when there isn't something happening on the Gold Coast and a lot of these events, business and venues are only in existence because of the marketing campaigns behind them.
The biggest one on the calendar is of course the 2018 Commonwealth Games however it's the general day-to-day events and campaigns that keeps the city ticking over. Despite the common perception portrayed in the tourism campaigns of no-one working and everyone riding roller coasters and running in slow motion down Surfers Paradise beach, there is a thriving business, events and marketing community keeping this city alive and worth visiting.
So what sort of marketing and campaigns do we often see on the Gold Coast?
Business Marketing: Over half a million people call the Gold Coast home so that's half a million opportunities local businesses have to succeed. There are two main business types on the Gold Coast: Those that service the residents and those that service the 12 million tourists that visit the GC every year. Competition is fierce in either of these industries, which is why it's important to stand out from the crowd and ensure your business is reaching the right audience.
Event Marketing: The amount of events on the Gold Coast is growing every year for a number of reasons:
Venue Marketing: Location. Location. Location. That's what it's all about and on the Gold Coast there is a goldmine of venues to choose from no matter what the occasion. Entertainment, events, accommodation, sight-seeing – there is something for everyone on the Gold Coast and usually an over-abundance of options. Making a venue stand out all boils down to being able to offer a point of difference to separate the venue from it's competition. It's also important for the venue to work on it's brand to ensure they are attracting the right type of clientele and most importantly – keep them coming back!
Tourism Marketing: This is the big one. As mentioned before there are approximately 12 million visitors to the Gold Coast every year and this is a big chunk of the local economy's pie. Whilst residents on the Gold Coast don't get to see much of the exterior advertising geared towards other states, if we take a moment to look around when we're driving to work, there is marketing for the Gold Coast everywhere! This could be as simple as signs advising which turn-off to use for Harbour Town or the fact that three of the major theme parks are conveniently located along the highway. Everything we see is geared towards making our 12 million visitors comfortable and wanting to come back.
Whichever angle the local Gold Coast marketing is gearing towards, it's all working towards one common goal of building the Gold Coast 'brand.' In a city filled with such diversity, it's important to ensure business owners understand who their market is and how they can reach them.
Need some help? Give us a call!